Non WoW Rant - Don't tell me how to do my job!
I was having a nice day at work today until my head of department walked in, with that look on his face and "I need to talk to you before you go home..." comment which I KNOW means there is an incident.
I levelled my gaze at him. "What now? What did I do wrong?"
"It's about MRI last week," he said.
I knew EXACTLY what he was talking about and I wasn't really surprised. "Did a parent put in a complaint about me?"
He laughed, shaking his head. "Yes, but I want to hear your version of the story."
I took a deep breath, and began to rant.
My hospital does a paediatric MRI list for children who cannot tolerate being awake for the MRI and we give them a general anaesthetic (GA). It's a special list, and all patients who are going to come in for an MRI under GA have to be assessed preoperatively before we proceed. It's a relatively new service that I helped set up and it's not only something sorely needed in our area health service, but it also means that local families don't have to travel far away to have this relatively simple procedure done. I would rather they DIDN'T have a general anaesthetic, as it's far safer for the child!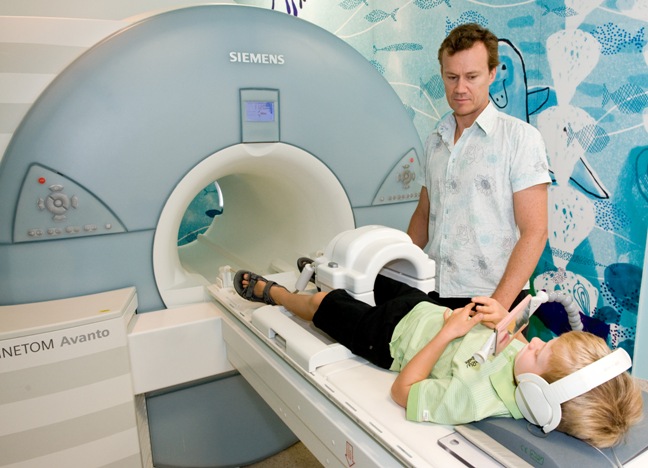 I wish all children had their MRI like this! It would save me lots of work!
Not every anaesthetist is comfortable doing GA MRI. It's in a remote environment, you're working with children, and those children are often difficult - autism, developmental delay, attention deficit disorders, hyperactivity, foster kids... getting them off to sleep is a challenge in itself! But I have heaps of experience in doing difficult kids and making sure it's safe for us and the patient that it irks me when people think they are exempt from my safety rules.
One important rule that I tell parents is that they may stay with their child until they are asleep but as soon as they are asleep they should wait outside or back in the ward for their child to wake up. Conversely, when the child's MRI is completed then I don't allow parents in until the child is awake. The reason I get parents to leave is because once the child is asleep we have to do things like put breathing tubes in, put in drips/cannulas and things can get hairy when patients to go to sleep. Children are prone to obstructing their airways and turning blue, so anaesthetists need to concentrate and not be distracted by anxious parents floating around asking if everything is alright when snoring noises and strange drug induced movements that look like epilepsy are totally normal when going under anaesthetic. Similar complications can occur when they wake up. Laryngospasm (which is where the voice box closes and the child cannot breathe) is a scary situation that requires immediate attention and special care to rescue and resuscitate and those seconds can be scary as a child suffocates in front of you - having a parent there watching and getting traumatised by us doing things to save their child is stressful for them as well, even if they don't realise it! A parent standing by feeling helpless and panicky as their child is turning blue/grey in front of them... I would not want to be that parent!
So last Friday, I had an 8 year old boy coming in for a repeat MRI of his leg after a tumour was removed. He had Aspergers so his mother said he was anxious and difficult but intelligent, but he was old enough to have a drip put in and be put to sleep with intravenous drugs. I was very pleased with this because giving gas to an 8 year old unco-operative patient is hazardous to the patient as well as to my staff, as the children bite and kick and scratch and fight and at 8 years, they are very strong! They can throw themselves off the bed and injure themselves! So I explained to the mother what we were doing, and she said that she was a staff member and she knew all the procedures and understood everything. The child was frightened and didn't want to go into the MRI room, so I put his drip in (which he did without a fuss, he was a good kid) and gave him 2mL of magic white stuff (propofol - the stuff that killed Michael Jackson) which was enough to make him sleepy and cooperative and then I took the child into the room and put him to sleep. The parent went outside (and were supposed to go back to the ward, but she was waiting outside the MRI suite, which is fine as well).
When we completed his scan, I sedated him heavily so that he wouldn't wake up hysterical - he had woken up terribly the last time despite sedation so I gave a larger dose of sedation to make sure he didn't do that again. The parent was hovering outside, and wanted to come in but I left clear instructions with my nurse recovering him that she was not to come in. He told that to her, and she was very agitated - so agitated that staff from the nearby department came into the MRI to tell us that an upset parent was outside. I knew she wanted to come in but I had already explained to her that is not part of our safety procedures and expected her to comply. I told the MRI radiographers to tell her, then decided it was probably better if it came from me.
I went outside and she was angry. She told me that she had always gone inside whenever her son had a scan and been there when he woke up. I politely explained to her that these are my safety rules and I do not compromise them as it is for the safety of my patient - even if the patient is her son. She said she was a staff member and she was medical and I reaffirmed to her that even if she was another anaesthetist and one of my colleagues the same rules would still apply. I told her that in an emergency I needed to ensure she would not get in the way or collapse or cause me to be distracted from the care of my patient and she adamantly told me she had first aid training and could handle a child going blue - her own daughter had epilepsy and turned blue in front of her and she had taken care of her. I said to her that I was sorry that I could not change my rules for anyone, and she again told me that every other time her son had an MRI she had gone in. I looked her in the eye and said politely but firmly, "You may have been allowed to do that at other times with other anaesthetists, but these are my safety rules and I do not compromise my care for anyone. Next time, you can have your scan done on a different day and go in with your son, but I'm sorry, you cannot do that on the day that I do MRI." She went quiet after that, looking angry, and I said that I would like to go in now and look after her son, and I would fetch her the moment he woke up.
When the child stirred (it was a while, since he was sedated), I brought her in and told her what to expect and if he had any nausea and vomitting to let the staff know and I would chart some anti-vomitty medications for him. She nodded and I left to go look for the next week's MRI patients so I could talk to them about what to expect and fasting instructions and where to go on their MRI day.
So, the complaint the parent put in was that I was rude and "told her that she should go somewhere else to have her MRI." She also complained that her son got too much sedation because he was sleepy for the whole day - gosh you can't please some people. If they wake up screaming, they complain. They stay sleepy and calm, they complain. She was upset that she didn't get to go in with her son despite her requests to go in. The patient liaison officer was very concerned that I had said "She should go somewhere else to have her MRI," but maybe the patient can do that and be happier somewhere else where she can boss the staff around to compromise safety! I doubt that any other place would be different to my rules though!
Naturally, I was infuriated. I had spoken to her in the politest way possible! And she works in the medical field (as a ward clerk) in our own hospital - she should know better and follow the rules! How dare she come in and tell me what I should be doing, when she is the one who did not comply with the rules stated and make me have to LEAVE my patient so I could deal with her. Of course, my child was being looked after by the recovery nurse so they were in good hands and I was just on the other side of the door, so it wasn't terrible, but it made me grouchy nonetheless.
I UNDERSTAND that it is your child, and you are concerned for their welfare and care. I REALISE that it is an anxious time for parents and they just want someone to be understanding and cater to their needs. But I have rules for a reason, not to be a bitch! All I need is just ONE parent to be present and something bad happens to their child and they are emotionally scarred for life, have post traumatic stress disorder, or worse, they obstructed me from doing my job by getting hysterical and collapsing on the floor, now leaving me with not one but TWO critically sick patients to care for!
I know that if anyone examined what I did, that nobody would criticise my care. What I did was standard care that most people would follow! Now who knows what things she is saying about me behind my back to other people, making me sound like a hideous horrible person! I know I shouldn't let it bother me but it does. You try to do the right thing by people and they just want everything their way! I bet there are tons of parents out there who think doctors are stupid people who don't know what's good for their child - but I am a parent, and I would follow the procedures if my child had been in the same situation.
This is not an isolated incident. I get all sorts of funny parents sometimes - there was one time that our secretary contacted a parent to come in for their child's preanaesthetic assessment for MRI and the parent said "Our child doesn't like seeing doctors and I don't want to traumatise them so we're not coming in for assessment, we'll just see the doctors on the day." Now that was HIGHLY unacceptable to me! I rang the parent and told them that if your child requires a general anaesthetic then our protocol mandates they must be seen prior to the procedure to be assessed and the family given instructions on fasting and where to go on the day so there are no mistakes with fasting. The parent was rude and said that it was highly inconvenient to bring their child to hospital (it was a foster child) and they could not come. I politely informed them that I don't mind if they don't come in, but if they didn't want to see the anaesthetist prior to the procedure that they would have to have a normal MRI, without a general anaesthetic and therefore would not need to waste any time coming at all, and it would be quick and easy and they could go home the same day. However, it meant they could not occupy a spot on our GA MRI list as those spots are reserved for patients requiring a general anaesthetic. I reassured them they would get another booking, but they grudgingly decided to come in for assessment. Fortunately they were pleasant in person and not too obstructive and followed all instructions given to them.
Sigh, I think my rant has run out of steam! To all concerned parents out there, I hope that you understand why we mean doctors do the things we do - it's not to be mean, it's for safety and patient care, and please, please do not ask us to compromise patient care as it makes it unpleasant and awkward for everyone.