10 Days of Pet Battling Day 2 - What pets don't you like and why?
Though I love all creatures great and small, there are some Battle pets that I don't enjoy using. There are a variety of reasons - I don't like their class, I don't like their attacks, I don't like their model (I know, I know, so superficial).
Class I don't like
Of all the classes, the class I LEAST like to use forbattling is Undead. I hardly ever pull any undead pet into my team for a battle - this is because I feel like their attacks are quite weak, and their survivability rather low (L'il KT is probably one of the exceptions - the Frost Nova and Howling Blast combo is quite good). They do have the invulnerability thing, but I've found it can be easily cc'd or avoided and that makes it just about useless.
However, the models of every undead pet are fantastic and unique. I don't think any of them are boring (unlike the beasts) and I like having them out just for show. Crawling Claw, Scourged Whelpling, Fossilized Hatchling and Stitched Pup are some of my favourites. However, the Voodoo undead companions I'm not too crash hot on, even though their models are cool. I guess they're just not my thing, as a Tauren. If I was a troll, they would be a cool companion to have out.
Attacks I don't like
I don't like those ones that increase your crit at a cost to your accuracy, like Adrenal Glands. Inevitably I always miss. I also am not a big fan of suicide bomber attacks, like the Baneling's Baneling Burst. Both of these attacks are in the Baneling's arsenal, though I still like it as a pet.
Models I don't like
I am sure that I am with most people about the number of spiders, rabbits, rats, snakes, and frogs. I mean, I know Blizz doesn't have the time to make a whole heap of new model pets, but really? There are 16 spiders (though there are at least 4 different models) and 22 snakes (with 3 different models). But the one model pet that I find the ugliest is the frog. So blocky, with sharp corners.... it looks awful. Frogs are smooth and slimy....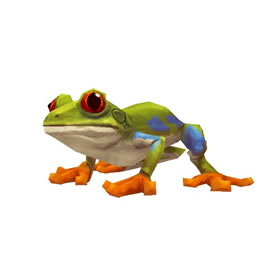 I wonder if my thoughts align with anyone else's?