Navispam: Working hard for my Apotheosis Souvenirs
I logon and yep, they're raiding. It's exciting, though, to just sit in guild chat because before long there is heroic Wind Lord kill spam for some of the guildies, and that was quite cool! Serrinne, Tikari and Kaleri all said hi and I thought, this time I'll wait for them to finish so I can take a pic with them. And shock horror, I decided to level a few levels too, while waiting. I don't know what had gotten into me.
Tikari was server first Fangs too! Not surprising since it IS Apotheosis after all.
We dragged Serrinne along for pics as well. Serrinne has droolworthy achievement points! Number one on the server! Actually, come to think of it, 6 of the top 10 are from Apotheosis, so I should be congratulating them as well :P
Jasyla stealthed her way over and they showed me some of the awesome stuff their guild has - look at those beautiful mounts from doing gold challenge modes! Serrinne is sitting on her LK mount /more drool. And I asked them both to bring out their fave pets - Tikari brought out his Murkimus the Gladiator and Serrinne couldn't decide... she brought out her Withers who is named Jasyla, so I brought out my Teldrassil Sproutling named Jasyla! I wonder what Jasyla thinks of all these people naming their pet after her and being so famous and cool LOL!
And THEN Serrinne brought out her Yak! Ooh, I want a ride! I've never ridden a yak before and I don't know if it's me or it just seems to run like a rabbit - giving it the illusion of going fast. I won't be getting a yak anytime soon but boy it looks cool :)
Tikari asked me what my favourite pet was, and it's hard to choose, but I brought out my most special pet and Jasyla got on her Charger to match it. He felt right at home!
Tikari and Serrinne said I should level an alt, and in all honesty, I couldn't think of anything worse than levelling anything! But I was browsing all their cool guild achievements and stuff, and I saw they had a Thundering Serpent Hatchling - maybe I could level and get a guild souvenir of my visit! Whew, that's going to be hard work though...
Roshii and Souglyy had recently levelled alts in another guild to get that pet and told me that it takes only a couple of hours - they got the pet at level 17 or so. Ok that sounded cool, but I should know better than to listen to alt-levelling veterens who have the
Quintessential Quintet
, because for someone like me, it will take me ages. But I took them at their word, and decided I would do it.
So, off I started on my levelling adventure. OMG I am levelling an alt. It's obviously a blue moon, and look, I see a pig flying, and it's holding my winning lottery ticket.
I have this to say - 2 hours
MY ASS
.
I only logged in a little bit each day to do some levelling, and sometimes I had a burst of a few hours, but it took me a WEEK to get to revered. But it was an interesting journey to say the least! One of my friends, Cavendar, was teasing me, saying I should get off that server and go and level on his server, because he would invite me and give me the gold so I could get the pet. But I had already started a little bit (I was level 8) and I said I was going to do it, and it didn't matter about the gold, I could sell one of my pets hopefully and scrape up the 300g I would need for it.
However, after that, were all these AWESOME quests with
John J Keeshan
. It only clicked with me when I did the quest
They Drew First Blood
, that it was all a Rambo reference! John J Keeshan is supposed to be John J Rambo, and his commanding officer,
Colonel Troteman
is a throwback to Rambo's CO Colonel Trautman. I LOVE Pop culture references in WoW! This has made my day. Keeshan even puts on a red bandanna later, and you even GET the red bandanna as a quest reward.
(I didn't wear it though.. You cannot PRY my Safari hat off my head!)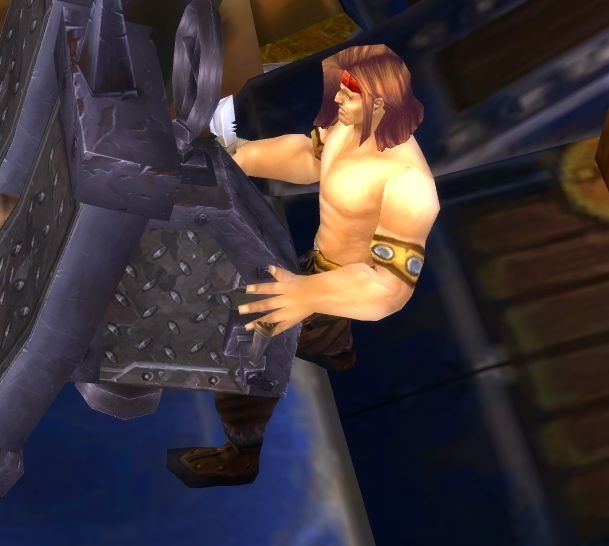 Thank God I wasn't questing with Catwynn. I would never finish questing while she flirted with my quest giver.
Keeshan says things which are similar to the Rambo movie!
"They asked me to fight in those wars. I didn't ask them! I did what I had to do to win. So I end up getting captured by those filthy, crap-swilling, maggot orcs and for five long years they used me as a toilet. Finally I break out and head back to my hometown and what do I get? People spitting on me, protesting me, calling me a baby orc killer and all kinds of vile crap!"
"I CAN'T FIND YOUR LEGS JOEY! I CAN'T FIND YOUR DAMNED LEGS!"
THERE ARE NO FRIENDLY CIVILIANS!
Then I got stuck. I had to go and do another poop picking quest and get some leaves and make some stealthy gear, and then I was stealthing into Blackrock Orc camps trying to free POWs and plant bombs in strategic targets. And that guy I was with, Jorgensen, would agro stuff and get me killed all the time. I think I was about to throw the whole thing in - but I ended up persisting and that one quest took me about 45 minutes to do I think. Phew. Once I had finished, I flew to Stormwind to clear out my bags and decided to help the little girl there get her balloons. As I watched her flying away, I realised I didn't want to go back to Redridge, no matter how awesome or sexy Keeshan was.
I had hit 20 by then, and I could now mount! However, I kept forgetting I could ride, because once I hit level 15, the frustration of not being able to fly or mount had faded, and I was just running everywhere. So silly me ran all the way to Duskwood before I realised I could have mounted. DOH!
A couple of quests there, and I was revered! Yay! Back to Stormwind I went, and I was standing at the guild vendor and beside me was the new recruit Aussie-living-in-US who joined the guild about 1 hour beforehand. I waved to him as I bought my hatchling - taking up the very last bag slot!
A big thank you to Serrinne! She sent me the gold to buy my pet (and then some) and that was such a lovely gesture! Big hugs and a little surprise coming your way!