WoW is the number one addictive game according to Catalyst ABC
Catalyst is a show on ABC, focussing on topics in science. Last Friday (26 April) there was an
episode about Internet and computer game addiction
, and it was a very interesting watch. It talks about being addicted to computer games, and the psychology of addiction which I found INCREDIBLY fascinating. Here are some excerpts (plus my comments) from the 11 minute article. You can also see it when you click on the link above.
So when does fun flip into addiction? Are some games riskier than others? How many kids will be trapped in the game? There are parents across Australia right now, trying desperately to cope with problem gaming.
I play World of Warcraft and I worry about my child getting addicted. You see those kids who fight with their parents about playing and how threats, removing the computer and all those sorts of things don't work. But what about me? Am I addicted? I always say I can stop if I want to and I don't feel the need to be on the game all the time. But, in saying that, CAN I stop? Can you walk away in the middle of a fight to go and do things like answer the phone? If the answer is no, the psychologists say that you could be addicted.
Studies from the US and Australia show around eight per cent of children who game will become pathological gamers - defined as severely impacting their lives. And these days, more than ninety per cent of kids game.
My kids game. I game. It's interesting the choices of games kids like to play. My daughter likes to play World of Warcraft, because she can walk around and look at things. She doesn't appear to be interested in the social aspect of the game - she doesn't even like killing mobs. She just is happy to walk around and interact with the environment by swimming in the water, going up and down lifts, and following NPCs around.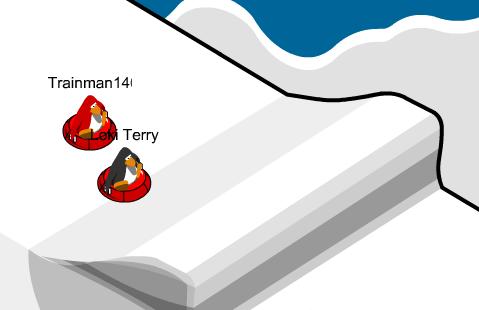 So are there any clues as to which games to keep an eye on? Dr Jonica Newby puts games into a heirarchy of power based on what motivations they tap into. She starts with an online penguin game where you can compete with other online "gamers" skiing your penguin down a slope. "Social needs, is the driving power behind this game, and they're going to be able to hang out with their friends. It's also giving them control. What six-year-old has much control of their life?"
That's really interesting. I had never thought that children think that they can control a game. It's so random. Maybe it's because in the game they have a choice. At home, do they really have a choice? We often give them the illusion of choice (eg. "Do you want to eat the broccoli or the peas?") but in reality they are subject to our whims and instructions. Sleep at this time. Eat lunch now. Time to go to school. But in a game, you can go anywhere you want. You don't need to ask mum's permission to go out to the park - in the game, you can just go.
Okay, so next motivational drive, we're talking pleasure. This one taps straight into the opiate and the dopamine centres of the brain, and we're talking about a very specific sort of pleasure here, aren't we?
Intermittent reward.
The first thing I thought was this sounds like gambling addiction. But World of Warcraft has some of the same properties - think of killing a raid boss. Sometimes you get the drop you want. But it's not all the time. And you keep coming back, trying to get that reward. They described Halo as giving you that intermittent reward too - but I think of that like a shoot 'em up so I'm not sure I understand how games like that have intermittent reward. Is killing a reward?
We know that one of the best ways to reinforce you so that you will want to keep doing it, is not to reinforce you all the time. In fact if I said, 'I'll give you ten dollars for every three times you jump up and down,' you would jump up and down a lot. And if I stopped paying you the ten dollars, you would quit pretty easily. But if I didn't tell you when I was going to give you the ten dollars - sometimes after the third time, sometimes after the tenth time. Then if I stopped, you'd keep going a long time, because you're not used to getting rewarded every time.
Wow, that definitely sounds like raid boss drops, or even damn quest drops! Or even farming for that matter! That is EXACTLY what WoW is like. You just keep playing because you don't know when you're going to get that next reward. And I could see that you couldn't stop playing because of the craving for the reward.
Finally, let's get to the flip side of pleasure, and that is pain. So some of these games actually punish you for logging off. And of course the main one we're talking about there would be straight up here to 'World of Warcraft'. It doesn't allow you to log off when you want to log off. Well it does, but if you log off before you reach your goal, you can lose the progress you've made in your current session. And that, that's really cruel. I mean it plays on your mind, you think, "Well, I've put all this energy. There's no way I'm going to log off and lose all of that."
Does that count as pain? I would never have thought of it like that. I know it ties you there, but there are so many things in life like that. Can you walk away from the stove while you're cooking? If you're knitting, should you really stop mid row and put your knitting down even if you know it may make an uneven stitch or hole in your item? How about when you're playing a game of football, can you stop halfway and say ok I need to go now and eat dinner or do you continue until the game is done?
But an even more powerful one now plays in these massive multi-player online games. And it is social. So in some of the games, what they do, is they will give you other gamers to look after. So you're the go-to person, you help them out, you look after them, you nurture them. In 'World of Warcraft' for example, they're called 'guilds'.
And it's that guilt trip - 'If I'm not there, I'm not looking after these people, I need to be there'. Fear of loss, fear of disappointing your team, is incredibly powerful and painful. It comes down to the most ancient brain-based survival mechanisms - fear, pain will trump pleasure anytime. A well-designed game trades on all of our evolved needs and our fears and our wishes and … including things like being able to do stuff you wouldn't normally get to do.
Raiding is like that - there's the social interaction, there's the feeling like you're letting everyone down if you don't turn up. That's a pretty powerful incentive if you do care about raiding, especially in your guild. Geez, listening to the psychoanalysis of it makes it sound like being in a guild is a step towards doom. A step towards being sucked in to the addiction spiral.
That's not to say any game is intrinsically bad or addictive. But if you understand its properties, you're better-placed to understand the ways it might get under your skin. And undoubtedly, some games hit these motivational drives much more powerfully than others. We know from studies that eminent people have done that World of Warcraft is a highly problematic game.
I think that pointing out these things has really opened my eyes to how you get addicted. But the big question - am I addicted? I often associate addiction as a love/hate relationship. You want to play but you hate being there, you hate the grind. But you can't help but login. I don't like logging in unless I want to do something - like raid, or do dailies, or get an item of some sort. Maybe that means I'm addicted to raiding? During the day I have no desire to be on World of Warcraft, except to do my "chores" like fishing, herbing. Gosh, wait, is that a bit of hate or dislike there? Maybe I do have that love hate relationship after all!
So at what point should a parent worry? Some of the warning signs are grades dropping, a loss of interest in other activities that the child used to be interested in. Perhaps also giving up some friends, or replacing them only with other friends who game.
I DO have a lot of friends who game. In fact, it feels like all my close friends now are ones who game. Some of the friends I used to hang out with now game too. But having children often causes a bit of isolation from the friends you used to have. You're so busy at home and tied to your children's routines and timetables that it's hard to fit in that time for those friends you could just go out with at the drop of a hat. Then there are your work colleagues - I only like to go out for educational functions or formal parties and dinners. Loss of interest of activities - well, I still like to read but I admit I do that a lot less now. When I had my enforced time away from WoW I was reading books again - I got through 1.5 George RR Martin books. I watch a lot less TV now than I used to, but I also write a lot now, on my blog. Which is kind of WoW related. So does that mean I can't get away from WoW? I won't deny that I think about World of Warcraft a lot. I love the game. I love the social interactions - but I do think of those friends as real friends, and they DO care about me, and help you like real friends do.
The program was aimed at parents, but I think we can also look at it to examine ourselves. If you're alerted to the addictive parts of the game, maybe that will make you more able to deal with the problems. So, the big question - am I addicted? Do I spend an excessive amount of time playing World of Warcraft or on things related to World of Warcraft? I know I spend a lot of time on it. 12 hours a week raiding. 7-10 hours a week blogging. That's getting close to a whole day at least, a week.
I was looking at my /played the other day. Navimie is rapidly approaching 365 days played (currently on 358 days played) - that's one whole YEAR playing World of Warcraft. And I have been playing since 2006, I think. So that's 6 years this year I have been playing. Say I pretend I played for exactly 6 years (2191 days), and say I spend, 20% of my time sleeping, that's 1752 days left. I work 30-40 hours a week on average, and say I take a few holidays. So say 30 hours a week. That adds up to 65 days a year working, so in 6 years that's 390 days working. So that leaves 1362 days. So of my non working and non sleeping time, 26.28% of my time PLAYING World of Warcraft. Now isn't that a weird statistic.
I think I'll put a poll on my site, about how long you have played, and maybe what % of your time you play World of Warcraft.
I guess I am addicted. But I still love WoW.