All I want to hear from MoP is....
So the NDA is lifted and there are only a few things I wanted to see... this is one of the BIG ones: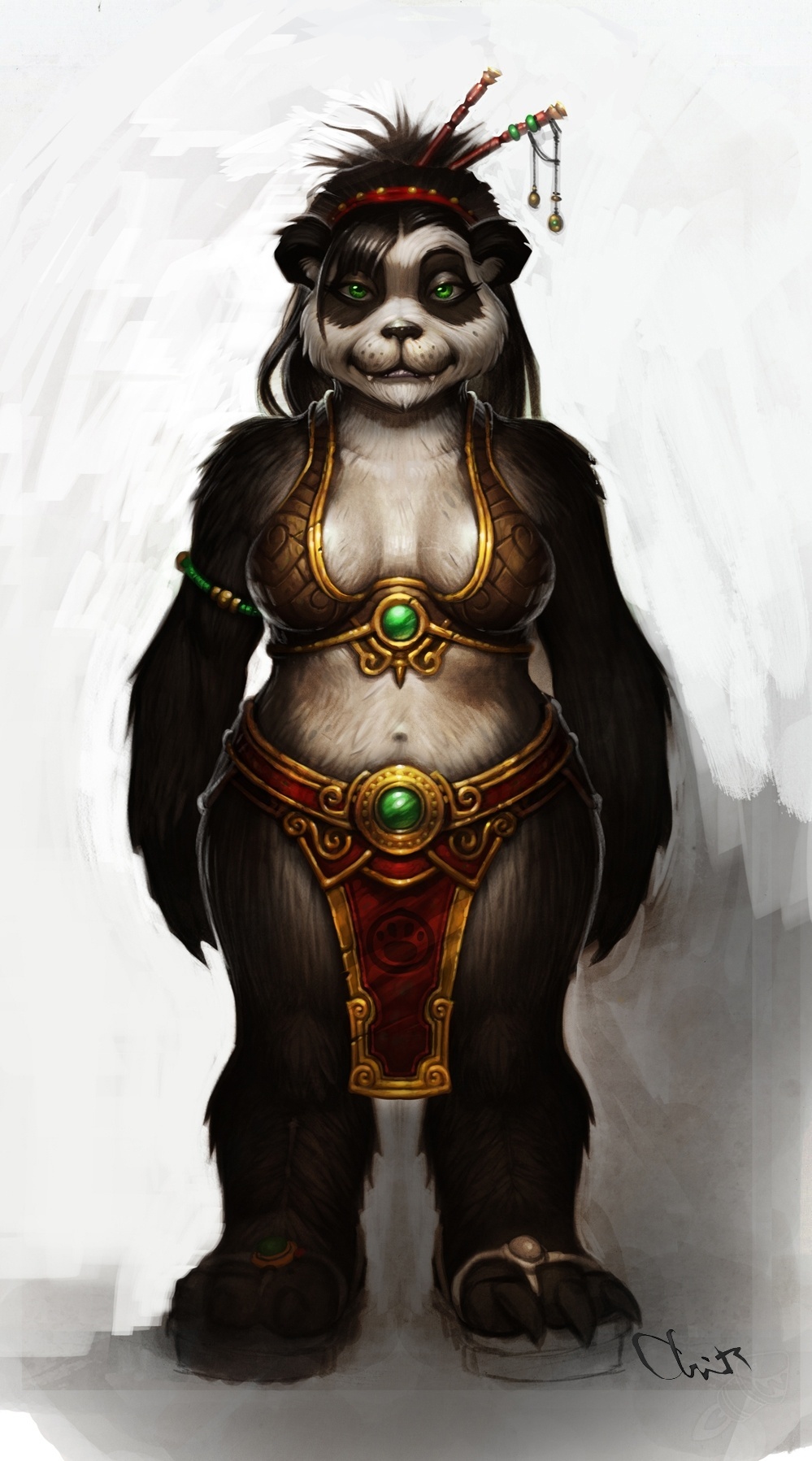 Bloody awesome, is all I have to say. Not quite the dwarf figure that I was worried about, but a nice curvaceous Pandarette nonetheless! So that was one thing I was dying to know - TICK!
Pet battles was the other thing I wanted to read about. I wondered if it was going to be horribly competitive and demoralising like PvP can be - but it seems that it can be quick and light hearted. Well. That remains to be seen. I can see myself still swearing at Sev when he beats me... if he beats me!
Challenge modes really appeal to someone like me, who is an achievement junkie. With rewards of special transmog armor??? Oh my, I'm already in love with the idea. And special mount rewards? Looks like I can drag Roshii and Aza with me for mount rewards. And I can already see Hwired rolling his eyes with disgust at the thought of beautifying his armour. Fue has already expressed his disapppointment with the idea of transmog armor as a reward. Stuffy old fuddy-duddy guild leaders /snort (Lushnek: Umm, Fue's younger than you... Me: Shut up...)
And just when I was starting to like Garrosh...
We also learned that Garrosh will become the overarching villian of this expansion as he grows hungry and out of control. Mists of Pandaria's final patch will focus on taking him down, as all races unite to end his reign.

And hang on... we're having Farmsville in Pandaria?
A new faction lets player have their own farms in-game. They will be able to manage livestock and more all the while gaining reputation. Other factions will offer other activities, from raising a serpent to become your mount to defending outposts for dailies.
And... now I feel like a mage, because now I can shape shift into all these things according to
Lissanna
.(info taken blatantly from her site)
Glyph of Stars:Transforms your Moonkin Form into Astral Form. This glyph essentially makes your character appear as a spirit instead of a moonkin. You look very nearly like you do while dead — but people can see you this time. And your armor, for that matter.
Glyph of the Orca: Transforms your Aquatic Form into an orca. Cool. I can be a Willy. And be free. The dirty jokes start....
Glyph of the Chameleon:Gives you a random appearance when you shift into Bear or Cat Form. Essentially, this one gives you a random coloring every time you shift. Who needs haircuts when I have this glyph.
Glyph of the Stag:Transforms your Travel Form into a stag that other players can mount. OMG people are going to mount me. I can see this is going to be one long dirty expansion full of innuendos...
Glyph of the Treant: Allows you to shapeshift into Treant Form. The act of shapeshifting frees the caster of movement slowing effects. (Confirmed: This is indeed your perma-tree back! From Blizzplanet: This is an actual form on your skill bar you can choose and walk around in your leisure at. It has nothing to do with the Tree of Life spell.")

Glyph of the Moonbeast: You can now cast Healing Touch, Rejuvenation, and Tranquility without canceling Moonkin Form.
Bring on Mists of Pandaria baby! I can't wait :)